The basis of the Talent Management Index® is the concept of Organizational Maturity – along the maturity levels of organisations. The model assumes that professionally managed organisations go through consciously created development levels in order to cope with external and internal challenges. This successive perfection is specifically and strategy-oriented shaped by the ones responsible.
The Talent Management Index® was adapted to our basic model. It underlies the normative approach that an organisation with a strategic approach is more mature than an organisation that reacts intuitively. This systematic measures therefore the quality of the strategic alignment of Talent Management. The results thereby become directly comparable.
The Index is the result of a questionnaire which consists of a mix of qualitative and specific quantitative elements. The fundamental structure lies on three dimensions of Talent Management: Strategy, Operations and Methodology. Each dimension is characterised by different individual elements (14 in total) which in turn are respectively divided into four maturity levels: 
| | |
| --- | --- |
| Maturity Level 1: | the element is used intuitively, on a trial-and-error basis and variably in different situations |
| Maturity Level  2: | rules and regulations for a standardised approach exists, nevertheless the implementation does not (yet) seem to be consistent  |
| Maturity Level  3: | the element is consistently managed and optimised |
| Maturity Level  4: | the element is strategic, future-oriented and aligned |
In general we can conclude that the large number and heterogeneity of the participants of our study allows us to give a good overview of Talent Management concepts, instruments and methods. Our sample includes about 80% of the SMI-, DAX- and ATX-enterprises as well as further selected organisations.
The feedback by our interview partners also very critical reports consistently confirm the validity of our measurement instrument. The identified Indices are considered as informative and accurate when evaluating their Talent Management concepts.
Framework of the Maturity Levels in Talent Management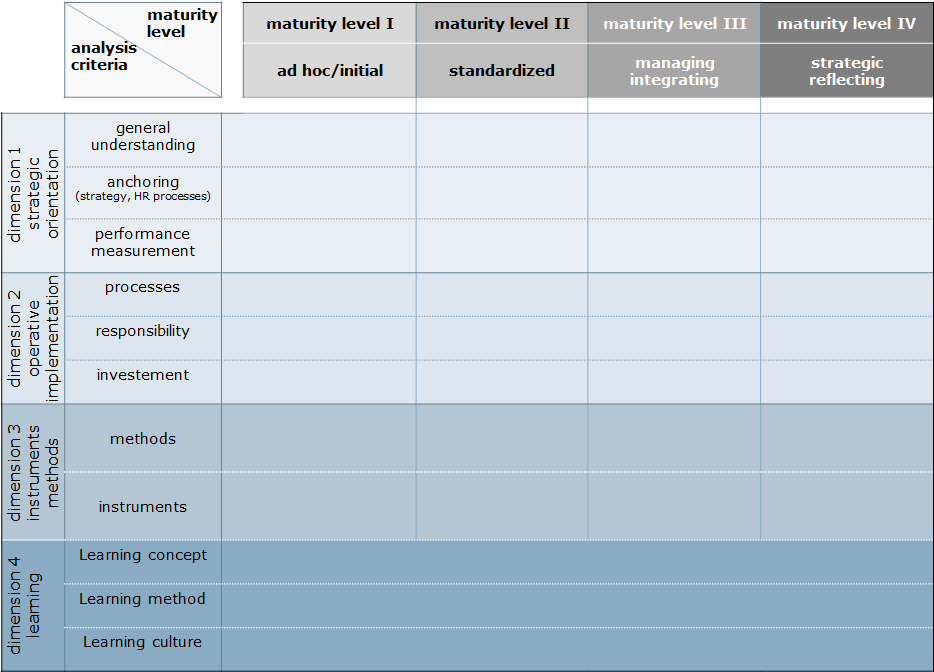 The Maturity Level Model in Talent Management in detail (extract)