What does successful leadership look like in an increasingly dynamic, complex and turbulent environment ...?
In order to convey this insight to managers we have developed an Organisation Simulator of a different kind … Future Mind®:  
What it's about …
Increasing complexity and dynamics are the challenges of today's managers. The performance and survival of organisations depend on the abilities of managers to cope with these challenges. They need to act fast and appropriately in uncertain situations where numerous and contradicting options of action exist. Susually, there is a lack of information and a high pressure to perform. In short: performance in times of VUCA (volatility, uncertainty, complexity, ambiguity). 
It is easy to talk about complexity and dynamics. But usually this is simply not enough to learn how to handle these situations competently. Learning rather has to occur with your head, heart and hand, otherwise the impact may only happen randomly. Real hands-on experiences are the best way to acquire knowledge and effectiveness.
In this sense we invite you to a whole new experience of Complexity-Training. Important conditions for successful participation are that you are able to go a step beyond your comfort zone, are really willing to learn and are ready to leave your usual patterns behind. We are convinced that participants will value this experience and gain great benefits from it. Participants will experience the following learning situations:
to do what they are paid for as managers: leading and changing the organisation effectively and successfully and not to be overwhelmed by the complexity 
to develop practical management competences for complex and dynamic situations
to cope with complexity and dynamics by alternative thought, communication, and behavior strategies and master change with little effort by working smarter, not harder!
to design processes for the development of excellent performance, customer orientation and cultural change.
Symbolically this means: learn how to swim by swimming, and not by knowing the theory of it ...
Target Group
Middle and Top Management, Project Leaders, Change Managers, Organisation and Employee Developers and anyone who wishes to invest in their personal development.
Content/Methods
The foundation of this training is an organisation simulator. It is not a seminar in the classical sense. Instead the mastery of complexity is practically trained with the method of "learning by doing". Leadership and Management know-how is developed concretely "on the job" and "Business Excellence" can be experienced at first hand. 
The Learning Design - Example
A customised simulation design guarantees a high degree of transfer experience for everyday business.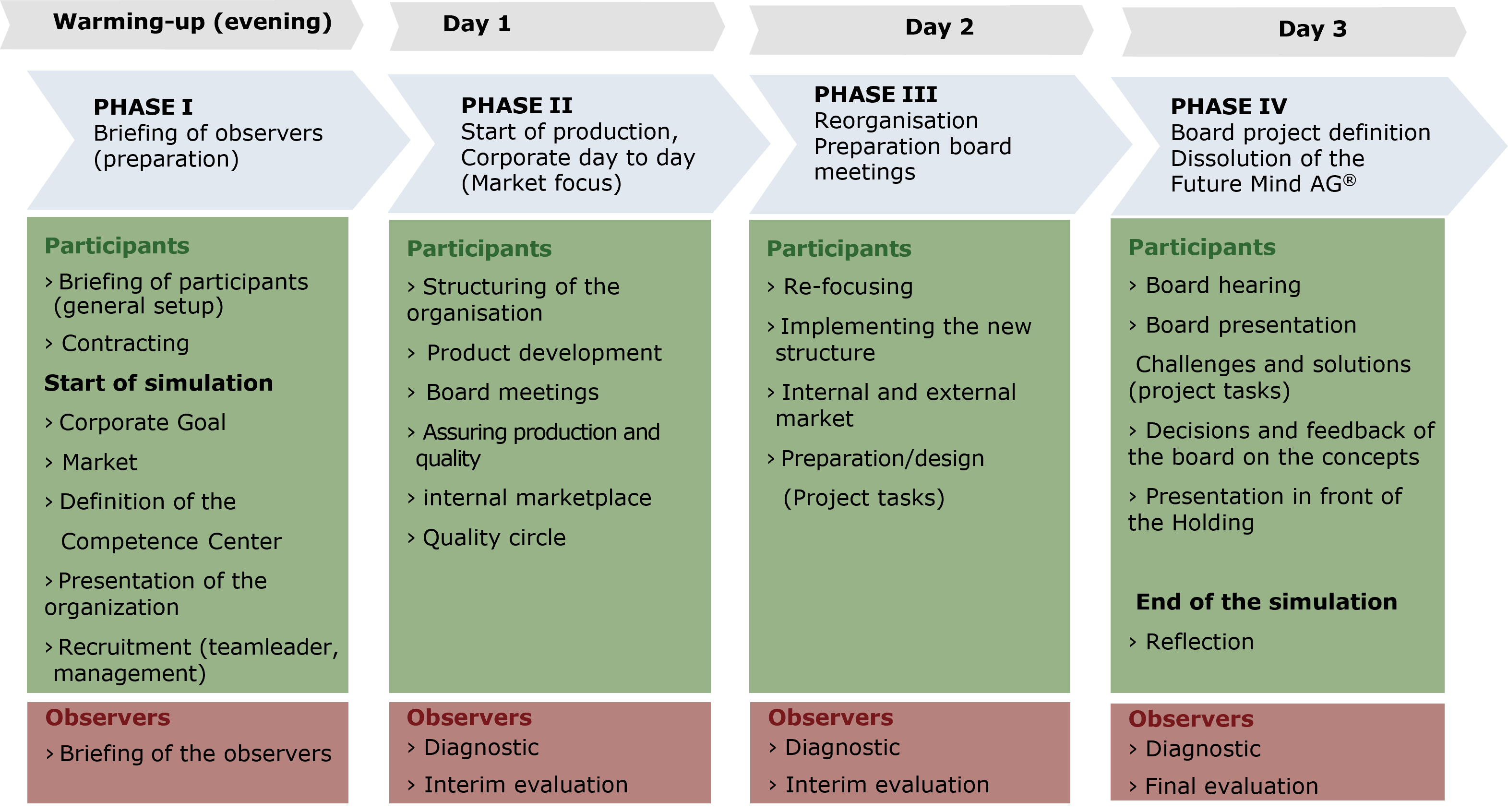 This design example has been extracted from a real project
The simulation group consists of about 24 participants from different organisations.
"Future Mind": This management training is designed and managed like a real life organisation: ​an Executive Board, several departments at multiple locations, customers, performance expectations. Structures and processes are to be designed, a sensible value-culture is to be developed, knowledge and skills are to be generated, and outputs are to be delivered. The organisational processes and their results (knowledge, behavior, quality, values, sense etc.) are continuously and collectively reflected upon, critically evaluated and further developed. With the help of customer-oriented feedback and change management measures, as well as specific assignments and intervention by the executive board, the performance and the effectiveness of the "Future Mind" organisation will be observed, measured and continuously optimised. Thereby an intense, deep, collective and real learning process for all participants is created and a sustainable and substantial learning curve is ensured. At the same time, the effects can be tested with real-life problems directly  and participants therefore become better prepared for the real life implementation "back home".
Participants say: "The 'Future Mind Organisation' has saved me three years of experience collection...  what I want to say: I have learnt more in three days than I could have ever learned in three years in everyday business...  The Future Mind Organisation as such is a learning compressor, an experience accelerator, is challenging and demanding at once." Another example, applicable for almost all managers from various organisations, the following feedback: "profound, productive, applicable ... and 'really worth the pain'!"