Munich | 18. - 20. October 2023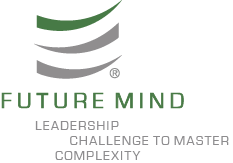 What it's about …
Increasing complexity and dynamics are the challenges of today's managers. The performance and survival of organisations depend on the abilities of managers to cope with these challenges. They need to act fast and appropriately in uncertain situations where numerous and contradicting options of action exist. There is usually a lack of information and a high pressure to perform. In short: Performance in times of VUCA (volatility, uncertainty, complexity, ambiguity). 
It is easy to talk about complexity and dynamics. But usually this is simply not enough to learn how to handle these situations competently. Learning rather has to occur with your head, heart and hand, otherwise the impact may only happen randomly. Real hands-on experiences is the best way to acquire knowledge and effectiveness.
In this sense we invite you to a whole new experience of Complexity-Training. Important conditions for successful participation are that you are able to go a step beyond your comfort zone, are really willing to learn and are ready to leave your usual patterns behind. We are convinced that participants will value this experience and gain great benefits from it. Participants will experience the following learning situations:
to do what they are paid for as managers: leading and changing the organisation effectively and successfully and not to be overwhelmed by the complexity 
to develop practical management competences for complex and dynamic situations
to cope with complexity and dynamics by alternative thought, communication, and behaviour strategies and master change with little effort by working smarter, not harder!
to design processes for the development of excellent performance, customer orientation and cultural change.
Symbolically it means: learn how to swim by swimming, and not by knowing the theory of it ...
Costs
In order to secure a high learning quality we only accept a maximum of 24 participants. The costs (net without legal value-added tax) add up to CHF 3.150,00 (excl. accommodation and food).
Registration